skip to content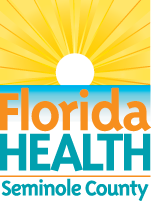 It's a New Day in Public Health.
The Florida Department of Health works to protect, promote & improve the health of all people in Florida through integrated state, county, & community efforts.
skip to content
DOH-Seminole shares post-hurricane safety tips
October 11, 2016
Sanford, Fla.
- As Seminole County residents cope with the aftermath of Hurricane Matthew, the Florida Department of Health in Seminole County reminds the public of the following health and safety tips.
FOOD SAFETY
More than 76,000 Seminole County homes and businesses lost power as a result of Hurricane Matthew. Prolonged power outages result in food safety concerns. When refrigerators and freezers lose power, special food safety measure should be taken.
Perishable foods such as milk, eggs, and meat should not be stored above 40 degrees for more than two hours. Discard any perishable items that have been kept above 40 degrees for two hours or more.

A full freezer will keep the temperature for approximately 48 hours (24 hours if it is half full) if the door remains closed.

If you plan to eat refrigerated or frozen meat, poultry, fish, or eggs while they are still at safe temperatures, it is important that each item is thoroughly cooked to a safe minimum internal temperature to ensure that any foodborne bacteria that may be present are destroyed.

Wash hands frequently with soap and water for 20 seconds before and after handling food, using restrooms, changing diapers or handling pets. Use alcohol based hand sanitizers if water is not available.

Avoid cross contamination by washing cutting boards and food preparation surfaces with hot soapy water after preparing food. Use separate cutting boards for fresh produce and for meats and poultry.

Use a solution of 1 tablespoon of unscented, liquid chlorine bleach per gallon of water may be used to sanitize surfaces and utensils.
GENERATOR SAFETY AND CARBON MONOXIDE
Generators offer lifesaving benefits when outages affect homes and businesses. However, generator use can be hazardous if the proper precautions are not taken. Follow these tips for safe generator use:

Engines emit carbon monoxide. Never use a generator inside a home, garage, crawl space, or other enclosed areas. Fans and open doors or windows do not provide proper ventilation indoor generator placement. Only use a generator outdoors, away from open windows, vents and doors.

Use a battery-powered carbon monoxide detector in the area where the generator is running.

Due to the flammable nature of gasoline, allow the generator engine to cool for before refueling and always use fresh gasoline.

Never operate a generator near combustible materials.

Use only heavy duty, outdoor-rated, grounded extension cords and lay them uncoiled in flat, open locations. The cord should be rated at least equal to the sum of the connected appliance loads. The plug should have three prongs, especially a grounding pin.

Generators produce powerful voltage, never operate under wet conditions.
DEBRIS AND FALLEN TREES
Hurricane Matthew left more than 200 Seminole County roads blocked due to fallen trees and other obstructions. Residents with downed trees on private property should consult with a tree care professional for removal. For smaller cleanup activities, it is important to reduce the risk of injury during cleanup and repair.
Always wear proper protective equipment, including ear and eye protection, a helmet, heavy duty nonslip gloves, and chainsaw protective pants.

Check the controls, tension, bolts and handles of a chainsaw to ensure they are functioning properly and that are adjusted according to manufacturer's instructions.

Make sure the chain saw is sharp and lubrication reservoir is full.

Start the saw on the ground for firm support at least 10 feet from the fueling area, with the chain's brake engaged.

Shut off the saw or engage its chain brake when carrying and walking.

Keep your hands on the saw's handles, and maintain secure footing while operating

Watch for branches under tension, they may spring out when cut.

Be cautious of saw kick-back. To avoid kick-back, do not saw with the tip. If equipped, keep tip guard in place.
RISKS FROM FLOOD DISPLACED ANIMALS
Be aware of snakes that may be swimming in the water to get to higher ground and those that may be hiding under debris or other objects.

If you see a snake, back away from it slowly and do not touch it.

Keep the bitten person still and calm. This can slow down the spread of venom if the snake is poisonous. Seek medical attention as soon as possible.

Dial 911 or call local Emergency Medical Services.

Apply first aid if you cannot get the person to the hospital right away.

Lay or sit the person down with the bite below the level of the heart.

Tell him/her to stay calm and still.

Cover the bite with a clean, dry dressing.

Be aware of other stray or wild animals that may have been displaced because of the storm such as raccoons, armadillos, rodents, etc. Stay away from wild animals. If you need to report a displaced animal please contact Seminole County Animal Services at (407)665-5201
FLOOD WATER SAFETY
Basic hygiene is critical. Wash your hands with soap and water that has been boiled or disinfected before preparing or eating food, after toilet use, after participating in flood cleanup activities, and after handling articles contaminated with flood water or sewage.

Avoid eating or drinking anything that has been contaminated with flood waters.

Do not wade through standing water. If you do, bathe and put on clean clothes as soon as possible.

Avoid contact with flood waters if you have open cuts or sores. If you have any open cuts or sores and cannot avoid contact with flood waters, keep them as clean as possible by washing well with soap to control infection. If a wound develops redness, swelling, or drainage, seek immediate medical attention. Residents who sustain lacerations and/or puncture wounds and have not had a tetanus vaccination within the past 10 years require a tetanus booster.

If there is a backup of sewage into your house, wear rubber boots and waterproof gloves during cleanup. Remove and discard absorbent household materials, such as wallcoverings, cloth, rugs, and dry wall. Clean walls and hard-surfaced floors with soap and water and disinfect with a solution of 1/4 cup of bleach to one gallon of water. Thoroughly disinfect food contact surfaces (counter tops, refrigerators, tables) and areas where small children play. Wash all linens and clothing in hot water. Air dry larger items in the sun and spray them with a disinfectant. Steam clean all carpeting.
DRAIN, COVER AND PROTECT FROM MOSQUITOES
Mosquito breeding after the storm is a concern as mosquitoes can carry some infectious diseases such as Zika.
DRAIN: Garbage cans, house gutters, pool covers, coolers, toys, flower pots or any other containers where sprinkler or rain water has collected.

DISCARD: Old tires, drums, bottles, cans, pots and pans, broken appliances and other items that aren't being used.

EMPTY AND CLEAN: Birdbaths and pets' water bowls at least once or twice a week.

PROTECT: Boats and vehicles from rain with tarps that don't accumulate water.

MAINTAIN: The water balance (pool chemistry) of swimming pools. Empty plastic swimming pools when not in use.
COVER YOUR SKIN
CLOTHING: If you must be outside when mosquitoes are active, cover-up. Wear shoes, socks, long pants, and long sleeves.

REPELLENT: Apply mosquito repellent to bare skin and clothing.

Always use repellents according to the label. Repellents with DEET, picaridin, oil of lemon eucalyptus, and IR3535 are effective. Use mosquito netting to protect children younger than 2 months.

COVER DOORS AND WINDOWS WITH SCREENS. Keep mosquitoes out of your house. Repair broken screens on windows, doors, porches, and patios.
For additional information and questions please contact the Florida Department of Health in Seminole County at 407-665-3000 or visit www.seminolecohealth.gov. Visit www.prepareseminole.org for updates on Seminole County storm related information.
For Media Inquiries